PhD, BSc (Hons), FAPS, FTSE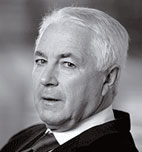 Independent Non-Executive Director
Chairman of the Technology Committee
Non-executive director since February 2004. Dr Clark is a member of the Risk Committee and the Human Resources Committee.
Skills, experience and expertise
Dr Clark brings to the Board international business experience and a distinguished career in micro-electronics, computing and communications. He was previously Principal of Clark Capital Partners, a US based firm that has advised internationally on technology and the technology market place, and he has held senior executive positions in IBM, News Corporation and Loral Space and Communications.
Current Directorships
Chairman: KaComm Communications Pty Ltd (Director from 2006) and Cudos Advisory Board (from 2011).
Former Directorships include
Former Chairman: GPM Classified Directories (2007 - 2008).
Former Director: James Hardie Industries NV (2002-2006) and Eircom Holdings Ltd (formerly Babcock & Brown Capital Limited) (2006-2009).
Former Principal: Clark Capital Partners (2003 - 2010).
Age: 68 Residence: Based in New York, United States of America but also resides in Sydney.