BCom, FCA, F Fin, FAICD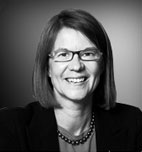 Independent Non-Executive Director
Chairman of the Human Resources Committee.
Non-executive director since November 2008. Ms Watkins is a member of the Audit Committee and the Governance Committee.
Skills, experience and expertise
Ms Watkins is an experienced CEO and established director with a grounding in finance and accounting. Her experience includes retailing, agriculture, food manufacturing and financial services, and covers small to medium companies as well as large organisations.
Current Directorships
Chief Executive Officer and Managing Director: GrainCorp Limited (from 2010).
Chairman: Allied Mills Australia Pty Ltd (from 2010).
Director: The Centre for Independent Studies (from 2011).
Member: Australian Government Takeovers Panel (from 2010).
Former Directorships include
Former Chairman: Mrs Crocket's Kitchen (2006-2007).
Former Chief Executive Officer: Berri Limited (2002-2005) and Bennelong Group (2008-2010).
Former Director: Woolworths Limited (2007-2010), Just Group Limited (2004-2008), Yarra Capital Partners Pty Ltd (2008-2010), AICD National Board and Victorian Council (2009-2011) and The Nature Conservancy Australian Advisory Board (2007-2011).
Former Partner: McKinsey & Company (1996-1999).
Age: 49 Residence: Melbourne.