Now there is a new way to process credit card purchases in Australia.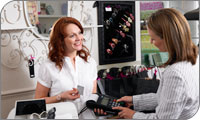 When you use your MasterCard, Visa, American Express or Diners Club card you will be given the option of signing the receipt like always, or entering your PIN and pressing the 'OK' button. Simply choose the method that's more convenient to you and continue with your transaction as usual.
Please refer to the frequently asked questions below for further information.
Do I need to enter a PIN at the EFTPOS terminal for a credit transaction?
No. You can continue to verify your transactions with a signature if you wish. Entering a PIN may be faster.
How will Pen or PIN change the way I make payments at EFTPOS terminal devices?
Depending on whether your card has a PIN, you may have a choice of verifying your credit purchase with either a PIN or a signature at the point of sale. When the EFTPOS terminal asks for a PIN, you can enter your PIN to complete the transaction, or choose to press Enter/OK to proceed to signature verification as you do now. There is no need to sign on a merchant receipt if a PIN has been used and the transaction is already APPROVED.
Will I be charged additional fees to use a PIN to verify my card purchase?
No. You will not be charged additional fees to use a PIN to verify your card purchases.
What if I don't have a PIN on my ANZ credit card?
Simply call ANZ or visit your local branch if you would like a PIN on your ANZ credit card. If you do not have a PIN at present, simply sign for your purchases until we send you a PIN. 
If you have an ANZ American Express® card attached to your credit card account, you will not be issued with a PIN. You should sign for verification of a transaction both in Australia and overseas.
What if I have exceeded my PIN tries at a terminal?
ANZ cardholders are allowed three PIN retries at EFTPOS terminals from midnight to midnight Melbourne time. Your PIN retry counter will be reset at midnight Melbourne time each day. However we recommend that you contact us if you continue to have problems with your PIN.
Will Pen or PIN affect all EFTPOS terminals?
Pen or PIN will apply to credit transactions at all PIN capable EFTPOS terminals. Please note that some unmanned EFTPOS terminals may not have PIN capability.
Will Pen or PIN impact how I use my card/s overseas?
Customers that have a PIN-enabled credit card may be able to use PIN to verify their purchases at the point of sale overseas.
Will Pen or PIN affect how I use ATMs?
There will be no changes to how you currently use an ATM.
If I have exceeded my PIN tries at an EFTPOS terminal and my card is blocked, can I go to an ATM to change my PIN?
The EFTPOS system blocks the card after three incorrect PIN tries, but the card is still usable on the ATM network. If you are an ANZ cardholder and know the original PIN, you can change it at any ANZ ATM. However, changing the PIN at an ATM will not unblock the card from the EFTPOS system until the midnight reset. On the other hand, if you exceed PIN tries at an ATM, your card will be retained by the ATM.
What if I am not prompted for a PIN?
In most cases where you are not prompted for a PIN, the EFTPOS terminal will print a receipt and you'll be asked for a signature. It is possible that some EFTPOS terminals may not be configured to accept a PIN or your card may not have a PIN.
My ANZ Frequent Flyer American Express® card doesn't come with a PIN. What should I do?
When using your ANZ Frequent Flyer American Express card, you can continue to confidently make purchases by signing your receipt.
You need Adobe Reader to view PDF files. You can download Adobe Reader free of charge.