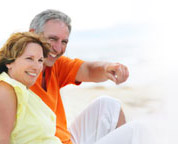 Maximise your super – take advantage of our round-up service by combining all your super in the one account to minimise your fees and maximise your retirement savings.
Never lose track of your pension – view and track your pension with your other ANZ accounts in ANZ Internet Banking or ANZ goMoneyTM.
One flexible account - for the rest of your working life and one that easily transitions to ANZ Smart Choice Pension when you retire.
It's simple – be involved as much or as little as you like, choose your own investments and insurance or leave it to us.
Additional information
Round up your super
Once your account is open, it's a good time to round up your other super accounts into your ANZ Smart Choice TTR account. If you have multiple super accounts you may be paying more fees than you need to.
To help you get started we'll send you some pre-completed forms when you open your account.
Alternatively you can do it yourself with the easy-to-use Round up your super form or call us and we'll help you.
Your investment options
Smart Choice Transition to Retirement (TTR) provides you with a choice of two investment categories:
"We Select"
An investment solution that is appropriate for your age, it automatically adjusts your investment exposure (to become more conservative) as you move towards and into retirement. 
Additionally, an active asset allocation process may be utilised to increase or decrease your exposure to relevant asset classes within permitted ranges. This process is designed to optimise your investment performance by adjusting allocations to markets/asset classes which we believe will perform strongly or poorly in the future. 
The exposure to a broad range of asset classes is designed to diversify investment risk.
You can also hold a portion of your account balance in ANZ Smart Choice - Cash.
Where you don't make a choice, your money will be automatically invested into the appropriate "We Select" investment option based on the decade in which you were born.
Find out more about "We Select".
Or
"Self Select"
A range of carefully selected investment options from which you can choose your own investment mix.
Find out more about "Self Select".
You can change your investment option at any time by calling Customer Services on 13 12 87.
Insurance cover
Once you open an account you will automatically receive Death Insurance cover (subject to eligibility), unless you opt out. You can also double your cover when you open your account or at any time by contacting us. Your cover will commence when your account has received an initial contribution.
By tax effectively packaging your insurance within ANZ Smart Choice TTR, your insurance premiums will be paid from your TTR account rather than from your after tax income.
Fees & costs
The fees you pay are low and simple to understand – nothing hidden, no exit fees and no commissions to financial advisers.
Administration Fee: $50 per annum
Investment Management Fee: 0.50% per annum, on the balance.
Note: The Investment Management Fee for ANZ Smart Choice Cash is nil.
Three easy steps to improve your retirement
| 1. Open | 2. Round up | 3. Complete & return |
| --- | --- | --- |
| Simply call 13 12 87 or complete the ANZ Smart Choice TTR form online now. | Round up your other super account(s) into your ANZ Smart Choice TTR Account. Call Customer Services if you would like help. | Complete and return the Notice of intent to claim or vary a deduction for personal super contributions if you're eligible for a tax deduction on your contributions. |
ANZ Smart Choice Super and Pension is a product offered by OnePath MasterFund (ABN 53 789 980 697, RSE R1001525) (Fund). When you invest in the products you become a member of the Fund. OnePath Custodians Pty Limited (ABN 12 008 508 496, AFSL 238346, RSE L0000673) is the Trustee of the Fund and is the issuer of the ANZ Smart Choice Super and Pension Product Disclosure Statement (PDS) (PDF 260kB) (including the ANZ Smart Choice Super and Pension Additional Information Guide (PDF 236kB)).
This information is of a general nature and has been prepared without taking account of your objectives, financial situation or needs. You should consider the appropriateness of the information, having regard to your objectives, financial situation and needs. You should read the ANZ Financial Services Guide (PDF 512kB) and the ANZ Smart Choice Super and Pension Product Disclosure Statement (PDS) (PDF 260kB) available by visiting ANZ Smart Choice Super site or by calling Customer Services on 13 12 87 before deciding to hold or acquire the product.
ANZ does not represent or guarantee that access to ANZ Internet Banking will be uninterrupted. Temporary service disruptions may occur.
ANZ goMoney is a registered trade mark of ANZ.
You need Adobe Reader to view PDF files. You can download Adobe Reader free of charge.