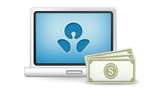 Greater control for high transaction volumes.
Our ANZ Business Extra Account allows you to access your money any time you need it. Plus, ease your cash flow with access to an optional overdraft facility.
ANZ Business Extra features:
Free ANZ Transactions.
Unlimited free ANZ transactions*.
Use your own money wherever Visa is accepted.
Overdraft facilities.
Link an ANZ Business Overdraft facility to your Business Extra Account to assist with cash flow requirements.
Best for your business if
Product information
Free ANZ transactions* 
Unlimited free transactions using: ANZ Internet and Internet Banking for Business, ANZ Phone Banking, ANZ ATMs, ANZ Business Visa Debit** and EFTPOS plus ANZ branch and cheque transactions.
Easy access 
You can access your money with total freedom. Get unlimited transactions at ANZ ATMs, Branches, EFTPOS, Internet#, Mobile and Phone Banking, ANZ Business Visa Debit** or cheque book (optional). Plus, easily transfer money or pay a bill with automated deposit and bill payment facilities.
Fees and charges
One simple monthly fee for unlimited ANZ transactions. View ANZ Business Banking terms, conditions, fees and charges (PDF 116kB).
Overdraft facility 
An ANZ Business Overdraft facility can be linked to your Business Extra Account to assist with cash flow requirements (subject to ANZ's normal credit approval criteria). 
Cheque facility
An optional cheque facility is available.
How to apply


On the phone
Call 1800 469 725

Business banking solutions you might also like
Any advice does not take into account your personal needs and financial circumstances and you should consider whether it is appropriate for you.
ANZ recommends you read the ANZ Business Transaction Accounts Terms and Conditions (PDF 724kB), the Business Banking Transaction Accounts Fees and Charges (PDF 92kB), the Business Finance Conditions of Use (PDF 344kB), the Business Banking Finance Fees and Charges (PDF 380kB) and the Financial Services Guide (PDF 76kB).