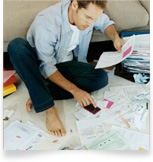 If you've ever been in the situation where, for one reason or another, you've had a transaction declined, or you've had an unexpected payment and insufficient funds to cover it, you'll remember the inconvenience it can cause. This is where an overdraft could be handy. A bank overdraft could give you access to the funds you need to deal with unexpected problems.
ANZ Overdrafts
ANZ offers several simple bank overdraft solutions that can help prevent these hassles from happening.
A little extra for those unexpected cash shortfalls.
A $500 or $1000 credit limit attached to your ANZ Access Advantage
Receive a response within 60 seconds, once you complete the online application.
Financial flexibility when you need it.
A personal overdraft attached directly to your everyday ANZ Access Advantage
A convenient way to take control of your finances
All applications for credit are subject to ANZ's credit assessment criteria.
Terms and Conditions available on application. Fees and charges apply.