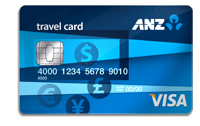 Going on holidays?
ANZ Travel Card is a secure and easy way to access your own money - in the currencies of your choice - while you're travelling.
 
Moving to Australia
ANZ can help you arrange your banking in Australia before you move.
Travel money
ANZ provides a one-stop-shop for all your foreign exchange needs.
International payments
ANZ offers you two convenient services to send money overseas.
Currency by ANZ
Whether you need foreign currency information for business or pleasure, Currency by ANZ is your must have app.
Foreign exchange rates

Currency Converter

ANZ recommends you read the Product Disclosure Statement and the Financial Services Guide (PDF 104kB) before acquiring the product.
You need Adobe Reader to view PDF files. You can download Adobe Reader free of charge.