We've made it easy for you to compare, apply for and manage the ANZ Business credit card.
Find the card that's right for your business
Compare cards or choose the benefit you're after:
 
Earn reward points for your day to day purchases
Earn unlimited rewards1 with one point for every $1 spent on purchases.
Up to 40 days interest free2 credit on purchases.
Manage cash flow with interest free days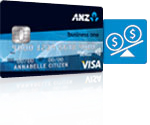 Up to 55 days interest free2 credit on purchases.
Smooth out cash flow ebbs and flows.
Control business costs with a low ongoing interest rate
Low ongoing interest rate of (View current rates) 3 on purchases.
No annual fee on an annual spend of more than $20,0004.
Existing Customer?
Manage my card or pay my account.
Don't want to apply online? It's easy, simply call us on 1800 032 481 or speak to an ANZ Small Business Specialist.
1. Reward Points and Bonus Reward Points accrue in accordance with the ANZ Business One Rewards Options - Program Terms and Conditions (PDF 800kB) (please call 1800 032 481, 8am to 8pm AEST, Monday to Friday for a copy). Purchases exclude cash and cash equivalent transactions.
2. Interest free days do not apply if you do not pay your Closing Balance (which includes any outstanding balance transfers, cash advances, purchases and Promotional Plans) in full by the due date each month. Payments to your account are applied in the order set out in the ANZ Business One Visa Terms and Conditions.
3. The standard variable interest rate is

(View current rates) on purchases and

(View current rates) on cash advances for ANZ Business One Visa Low Rate. These rates are current as at

(View current rates) and are subject to change.
4. An annual card fee of $150 and annual additional cardholder fee of $30 applies if minimum spend is not reached.
You need Adobe Reader to view PDF files. You can download Adobe Reader free of charge.